A late 1940's fixie
Many years ago, my Dad stumbled across a rather unusual bike on the CTC classified forum.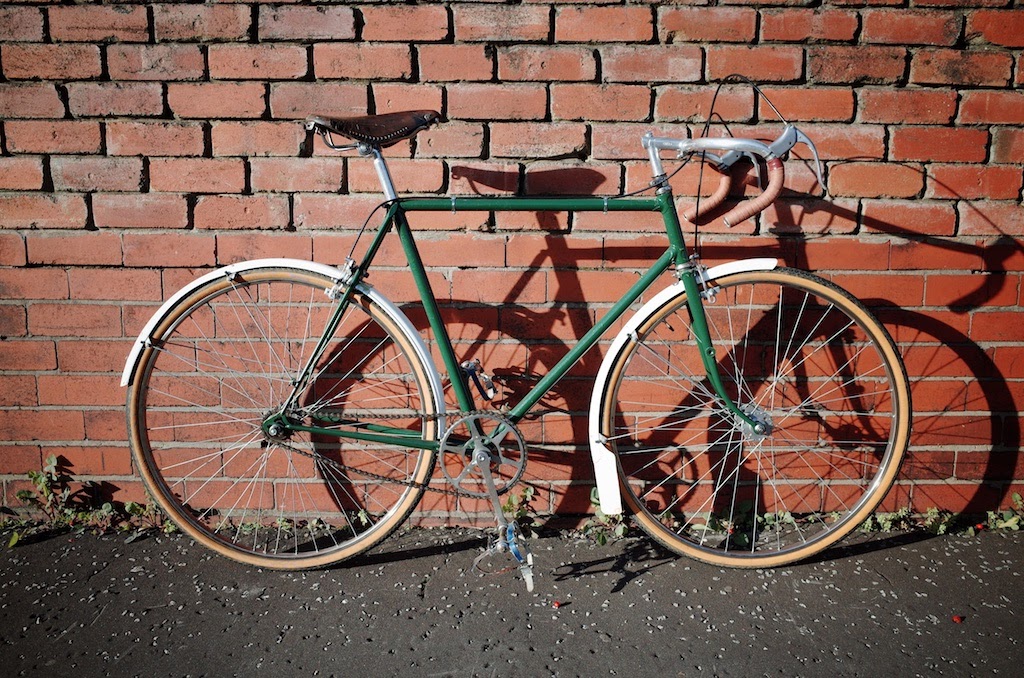 It was advertised as a late 1940s/early 1950s "path bike". I had to look up "path bike". It was a term used to describe bikes that are suitable for riding "roads and paths". So not designed for carrying heavy loads like a tourer, but intended to be capable on road and comfortable on unpaved tracks. That sounds an awful lot like a "gravel bike", to me. What's old is new!
Made from lightweight Reynolds tubing and built up with British-made components, it's a wonderful example of the kind of thing that craftsmen and women used to create in the UK.
It was fully restored about 10 years ago, before being sold to a chap called Pete.
Shortly after the restoration, Pete took some photos that I've uploaded to Flickr. They don't make bottom brackets like this any more...
Here's what Pete told me about the list of parts:
23" Reynolds frame
Dunlop Special Lightweight rims (27")
Michelin 27 x 1¼" World Tour gum wall tyres (which roll really nicely)
Handlebars with a Strata Pellissier bend
GB Coureur Hiduminium brake calipers
GB Coureur brake levers
Chater Lea headset (apparently these are worth about £50 on their own)
48 tooth Williams chainset
18 tooth rear sprocket (fixed)
19 tooth rear sprocket and freewheel (it's a flip-flop hub)
Bayliss Wiley bottom bracket
Bluemels Popular mudguards
The paint job isn't as shiny as it once was. It has developed a lovely patina though.
Here are some recent photos: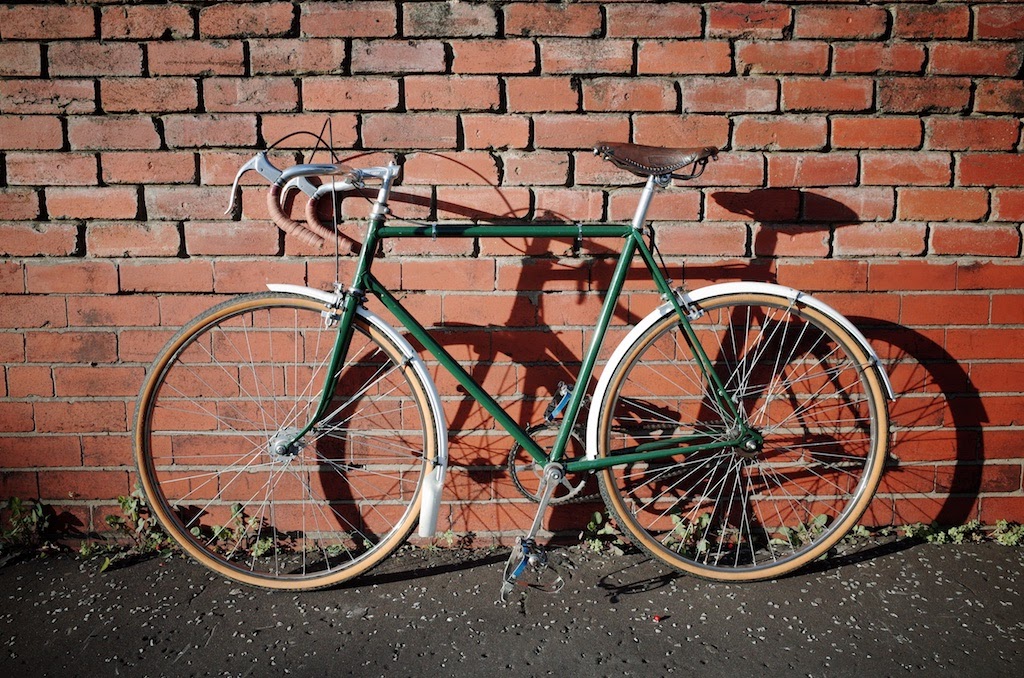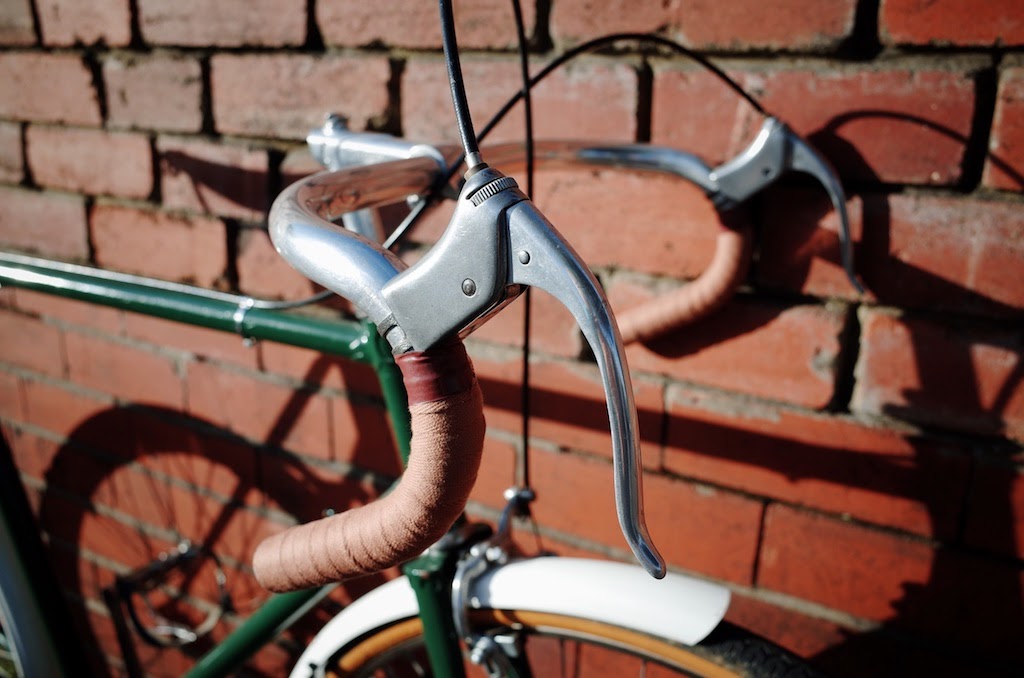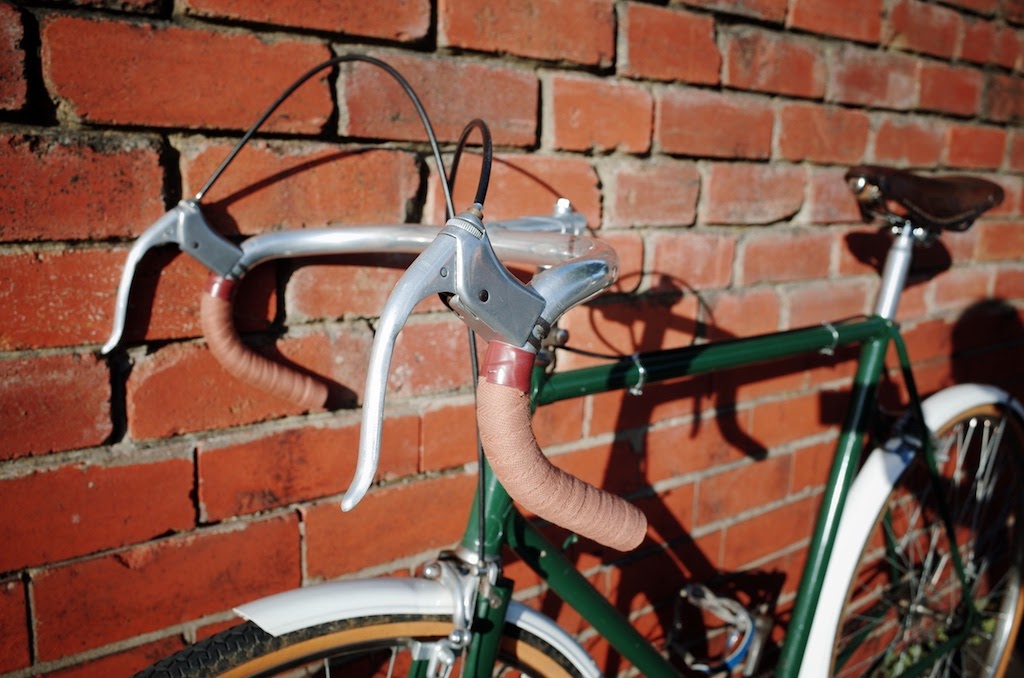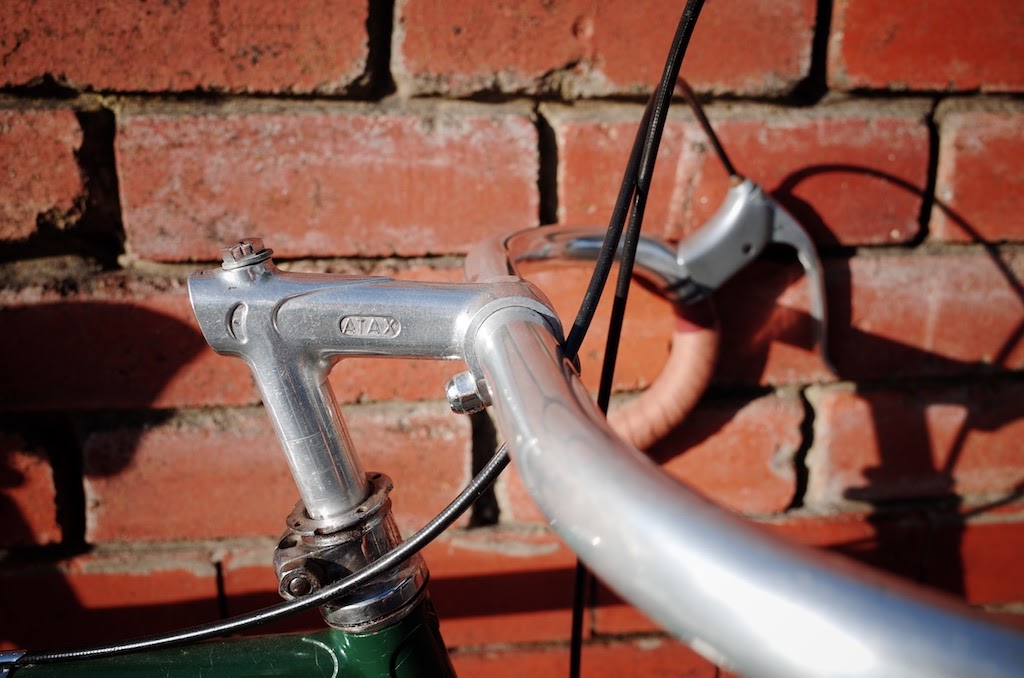 The forks give a very comfortable ride – you can actually see them give a little when you put some weight on the handlebars. I really like the delicate curve; not like the overbuilt health and safety conscious tubing that we have to contend with nowadays.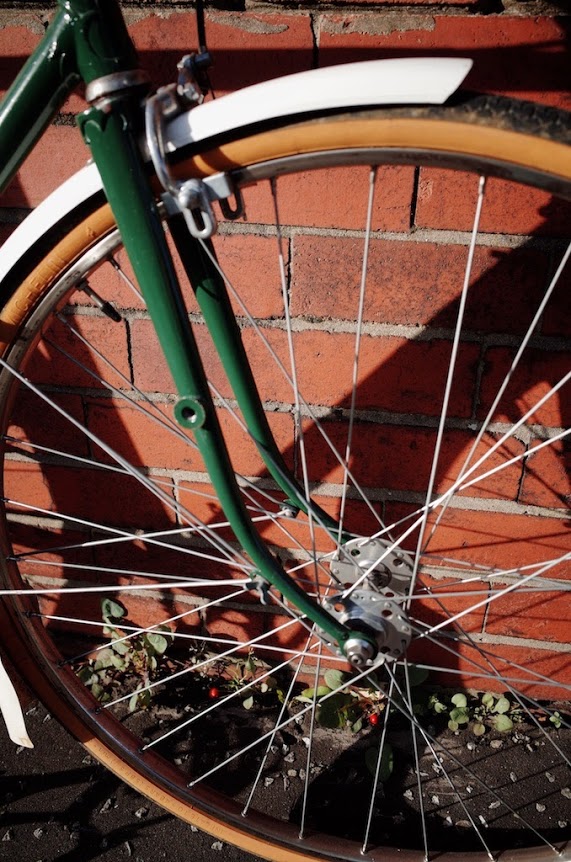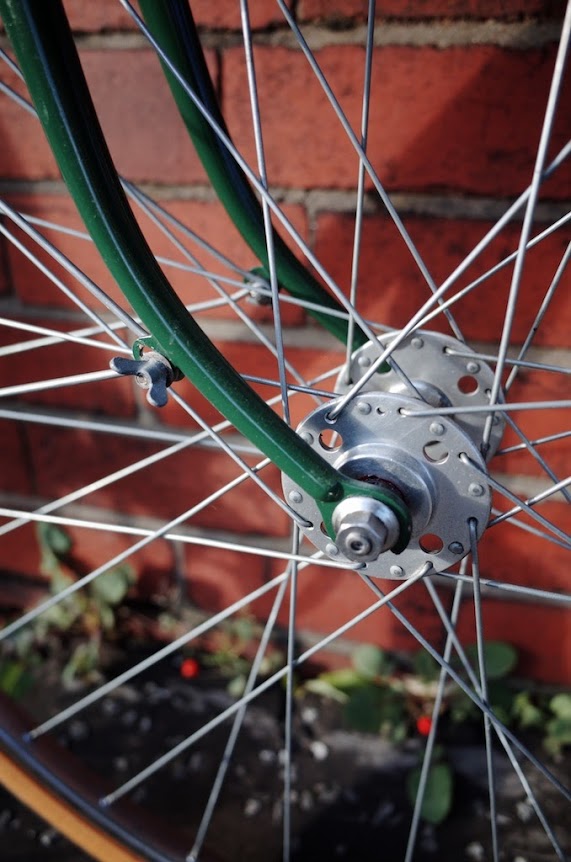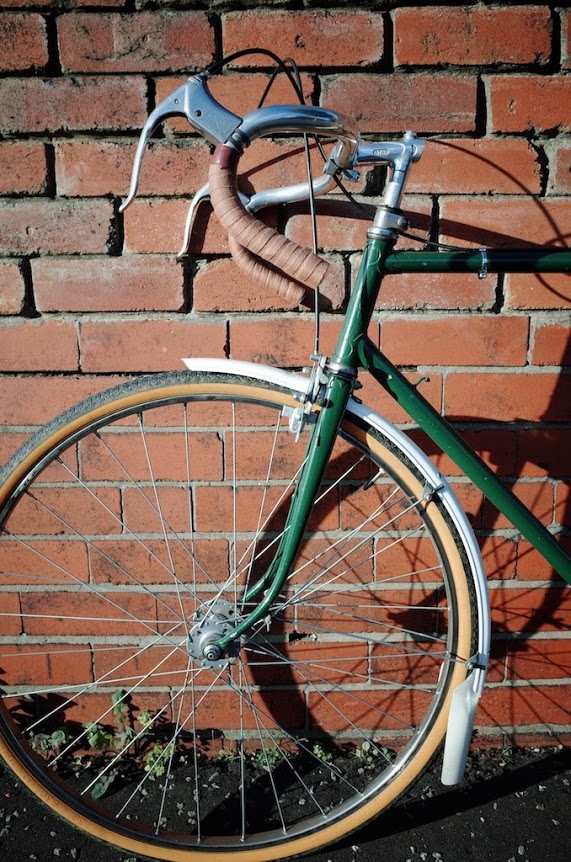 Rear stays this thin, to help you float over the rough stuff.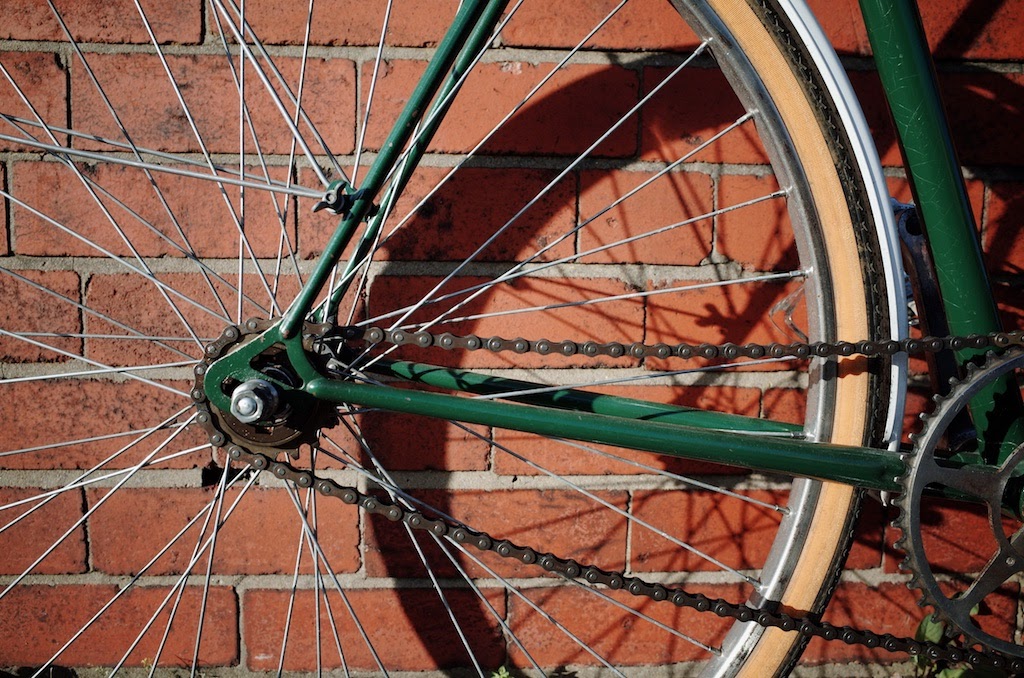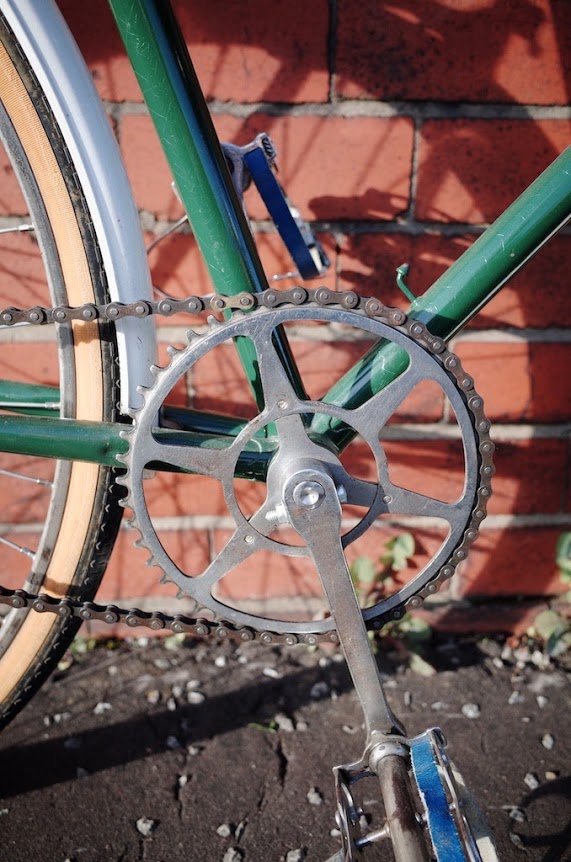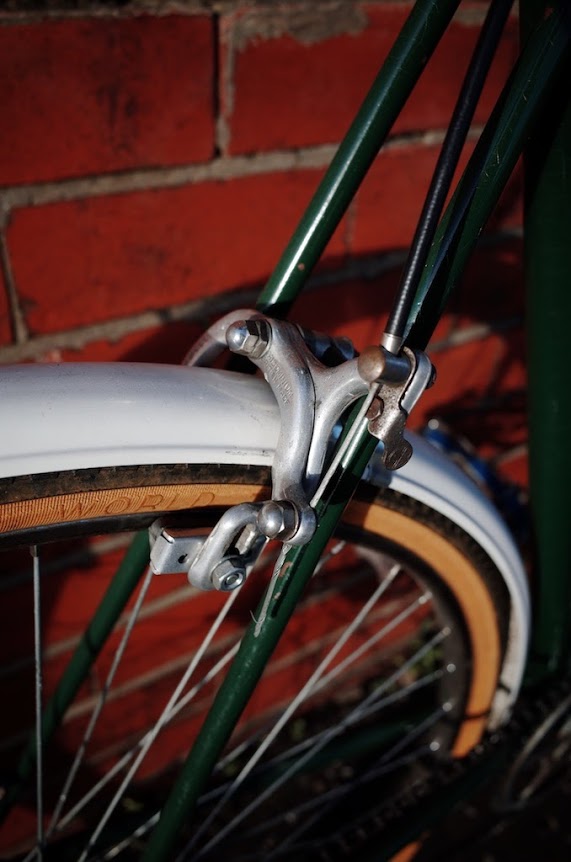 So who made it?
Unfortunately, nobody has been able to identify the builder. I once sent Hilary Stone (considered by many to be as good a person to ask as any) some photos, but he wrote back to say he couldn't identify it.
Sean, who runs my local bike shop, is a big fan of vintage bikes. The shop used to be a Raleigh dealership, and Sean thinks it might be a Raleigh Lenton. He might be right.
Having studied old Raleigh catalogues, the only thing that gives me cause to question it is the Chater Lea headset. At the end of the 1940s Raleigh were fitting headsets like this one to the Lenton. So far, so good. Unfortunately, the frames measured 22" (and this bike has a 23" frame).
In the early 1950s Raleigh started making 23" frames instead, but the first catalogue for the 23" model shows it with a more modern headset design.
It's not impossible that some were made in 23" with the earlier Chater Lea headsets, but nor is there any conclusive evidence for it actually being a Raleigh.
I'll leave you with the earliest picture I've got of it, taken before the restoration.