Mountain biking on Knoydart
Last year I spent a week on Knoydart, a peninsula on the west coast of Scotland that's inaccessible by road. It's one of the most remote inhabited parts of the Scottish mainland. There are a few small settlements, the biggest of which is Inverie, with 112 residents. There's a pub, a tea shop, and a post office.
Before I set off I investigated whether it would be worth taking a bike. Almost everything I read suggested that (beyond a couple of small maintained "trails") Knoydart was largely inaccessible to mountain bikes. It seemed more hassle than it was worth, I didn't take the bike, and regretted the decision from the first day.
The scenery is right up my street. There's a good mix of mountains, crinkly coast line, and views across the sea to the nearby Hebridean islands of Eigg, Rùm and Skye. What I hadn't expected was to find that the valleys are linked up by a network of tracks that are suitable for a mountain bike, or heavy touring bike.
So while I agree with the comments on the mountain biking forums that it's not the ideal "single track" destination, a mountain bike is a great thing to have with you on Knoydart. You'll see more of it, have a great time riding round the peninsula, and it'll give you something different to do the day after you climb Ladhar Bheinn.
If you like a good walk, I recommend making climbing Ladhar Bheinn your first priority. Here are a couple of photos to help persuade you (you can click through to Flickr for larger versions)...
Going back with the bike
This week I went back for the day. I wanted to visit bits of the peninsula that had been out of easy reach on foot, and took my heavy tourer.
I wanted to ride clockwise around the south westerly part of the peninsula, from Inverie, past Sandaig bay and Doune and up to Invergusen. The ferry docked just after 11am, and I had to be back for the return journey by 4pm.
The road out to Sandaig is predominantly smooth tarmac. It's a swift ride along the side of Loch Nevis, with a great view across the sea. The road then turns briefly inland, takes you past a small lochan, before dumping you down a fast downhill. After a bit more climbing, you find yourself looking west towards Eigg and Rùm. The road surface deteriorates a bit at this point, but it's still fine for touring bikes.
There's plenty of short climbs and swift descents for the next few miles, until the road levels out as you go past Doune. The panoramic view of Eigg, Rùm and the Cuillins of Skye make it worth stopping for snacks.
Before long you're flying downhill into Airor, beyond which the road ends and a very lumpy track begins. This is where you'll probably want to turn back if you're not riding an off-road capable bike with strong wheels. It's also where I had to drop the tire pressures.
After a few hundred yards of fairly rough track the surface improves, and you'll find yourself on the banks of Loch Hourn.
Within a mile the track disappears altogether, and becomes a footpath. It's more a legal right of way than it is a clearly defined and well trodden route.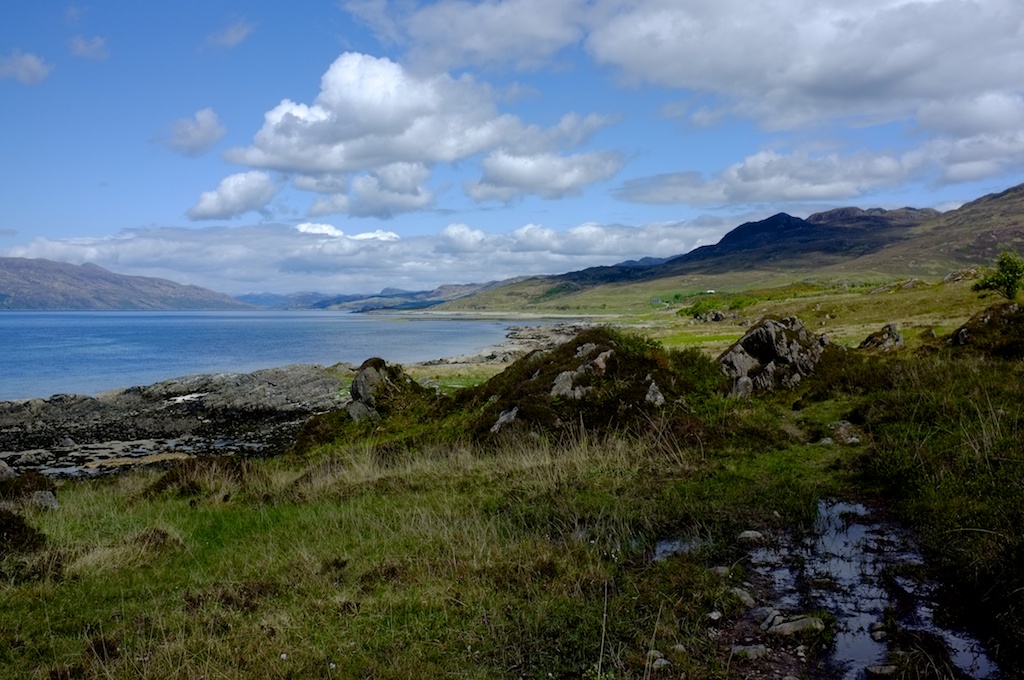 Much of it is strewn with boulders that make riding difficult, and at times it got boggy enough to swallow my front wheel right up to the hub. It's not a problem, as you won't be going fast when it happens, but ploughing through wet bog does make for tiring riding.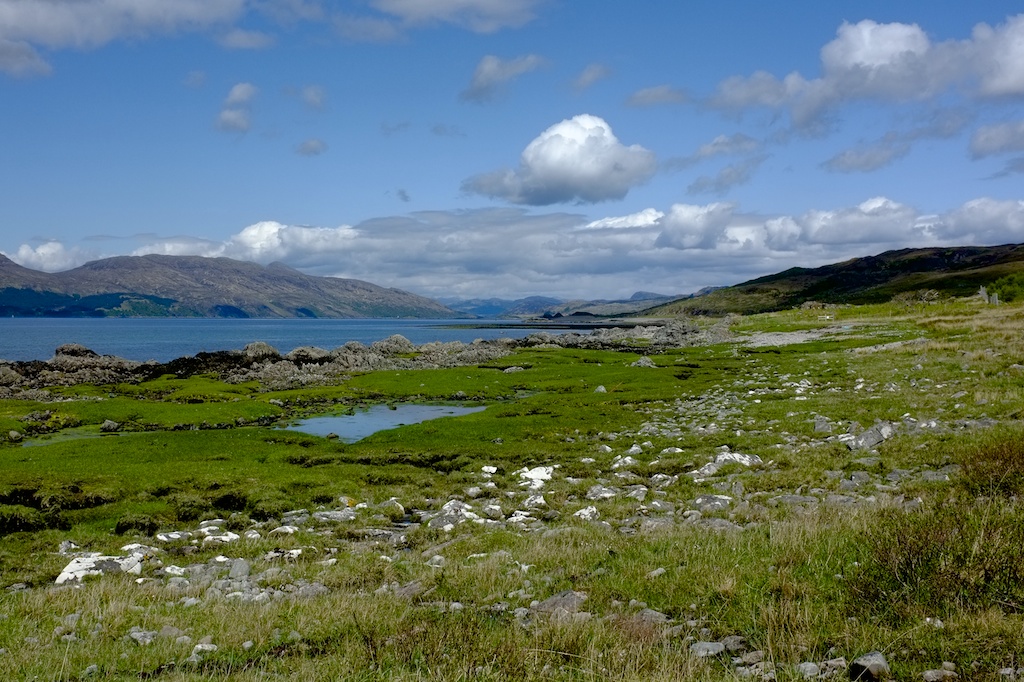 Once you get to the river (I walked at least half of this section) the hard bit is behind you, but you will need to ford the river. There was a fair bit of water in it when I crossed it, but it was below my knees, so I just waded through it and put up with wet feet.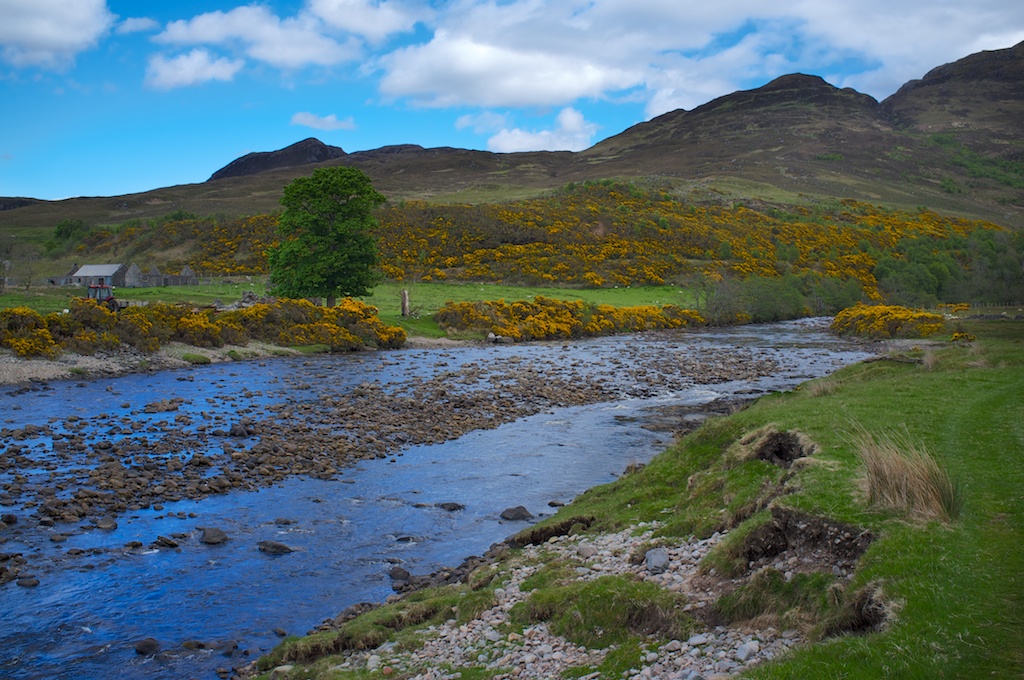 The track on the other side of the river is good, and the surface is smooth enough to do 10mph comfortably all the way back to Inverie (but there's plenty of climbing, so don't expect that to be your average speed).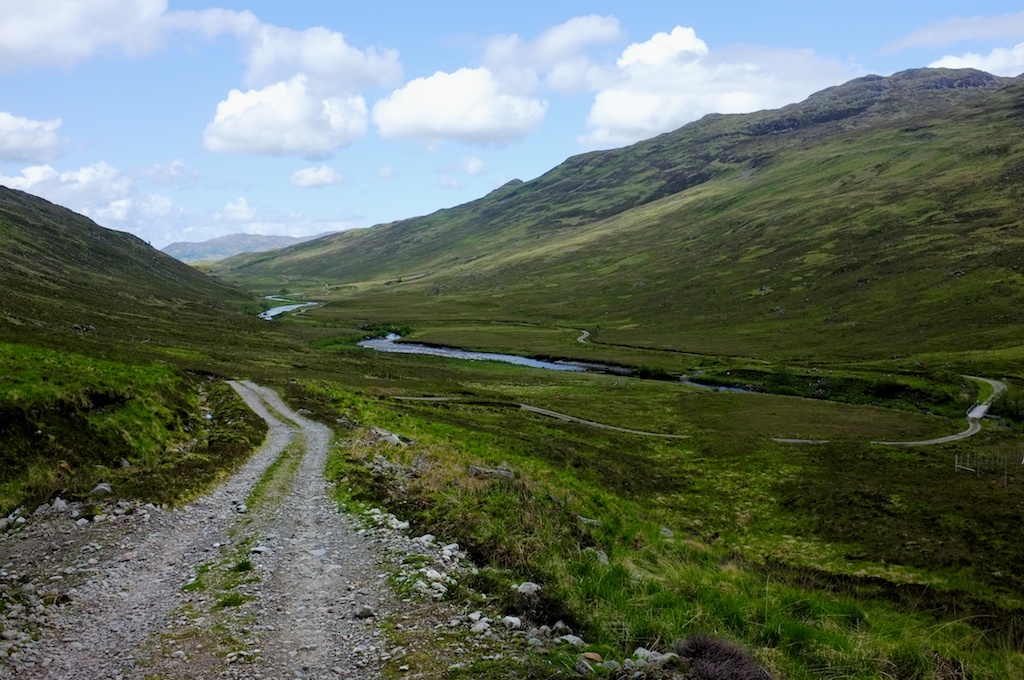 It's not long before you get a great view of Ladhar Bheinn (the highest Munro on the peninsula).
The track from Folach Gate to Inverie is also good, and your speed will only be limited by the quality of your suspension forks (but watch out for the enormous innocuous looking puddle that could break your bike if you dive into it too fast – it's not that shallow after all).
I arrived back in Inverie at around 3.30pm, leaving plenty of time to make a sandwich and grab a pint in the pub. Then it was back on the boat and back to Mallaig.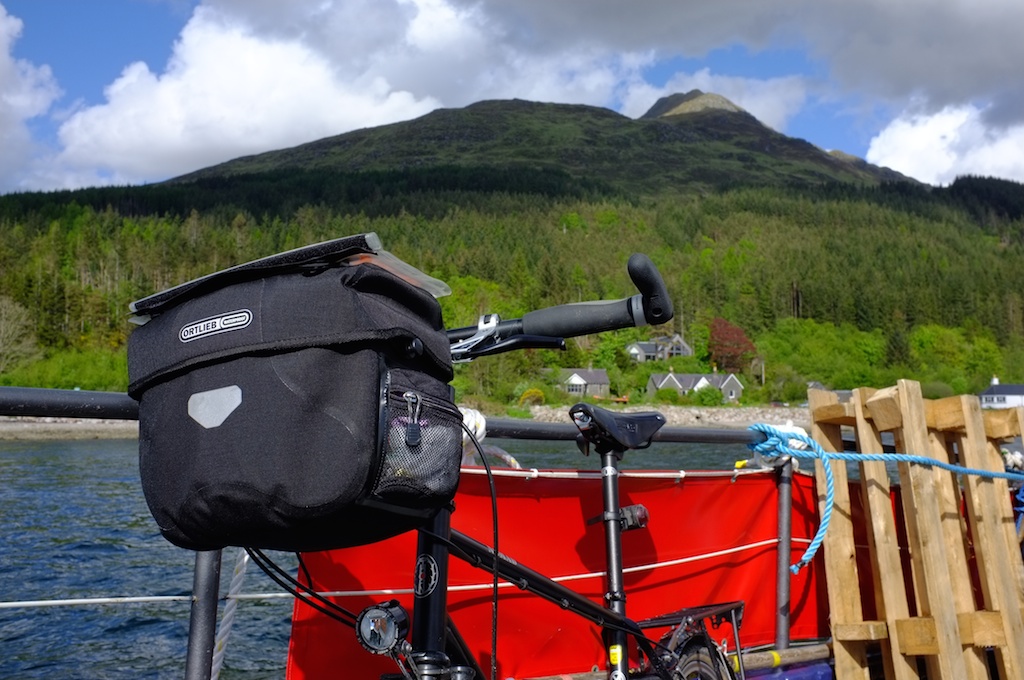 A great day on the bike.
What sort of bike do you need?
I was riding a Thorn Nomad (an expedition tourer) with no suspension (front or rear). My tyres (1.75" Panaracer Paselas) weren't an ideal choice, but I dropped the pressure to 40 PSI and they did the job admirably. It weighs a lot unladen, but I got round the Invergusen loop without too much trouble even though I was dragging a heavy pannier full of photography gear with me.
A mountain bike would be better (simply because it'd be lighter when you need to get off and drag it over the rocks or through a bog). I wouldn't fancy doing it on tyres narrower (or with less tread) than my 1.75" Panaracer Paselas. As it was, I found I could descend down the lumpy stuff at quite a lick without fear of permanent damage to me or the bike. Bear in mind that these Thorn Nomads (and wheels) feel like they're built from iron girders.
If you're considering taking a more traditional touring bike (with lighter wheels and 28mm or 32mm touring tyres) you'll have fun at low speeds on some of the tracks, but might prefer to spend most of your time on Knoydart walking up the mountains. This isn't ideal Dawes Galaxy terrain.
Update: I was just chatting with the skipper of Western Isles (the ferry) who mentioned that Tommy the postman is about to start hiring mountain bikes. This is superb news, especially as Tommy happened to be on hand to help me get my bike off the ferry and commented "that's a lovely bike" as he gave it me back. A Thorn Nomad doesn't look like anything special, so I suspect Tommy knows his stuff and won't be dealing in clunkers. :-)